The Technical Director role
Discover the Technical Director role with Sébastien Oger. As a child, Sébastien Oger was fascinated by toy trains. Today, innovation is his playground. Inventing the transport of the future, thinking about the challenges for electric mobility, reflecting on energy transition: this is what an average day looks like for Mobility's Technical and Innovation Director.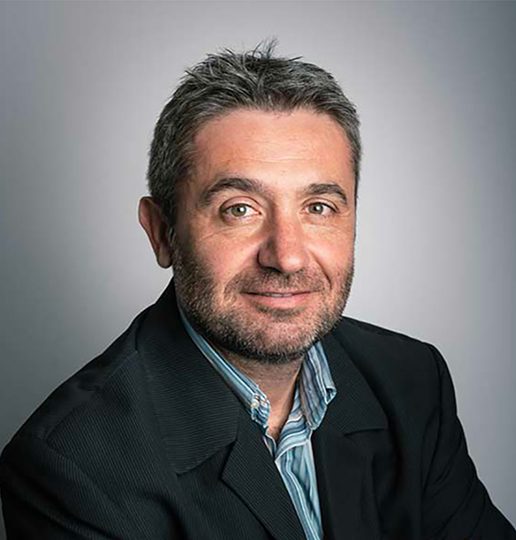 What is your academic background ?
After completing a DUT technical diploma in Electrical Engineering and Industrial IT, I joined the École Centrale de Nantes. Then, after my studies, I did my military service in the chasseur alpin mountain infantry.
What is your professional background ?
I started out working at a family business specialising in the automation of special-purpose machinery, in the foundry industry. From programming PLCs to commissioning, this role has given me an overview of the entire production chain. With a deep connection to the mountains, I later joined the Poma-Otis team as an instrumentation and control system development engineer on an underground cable car system for Zurich Airport.
In 2003, Cegelec Centre-Est reached out to me to develop the Transport Department for the start of the Clermont-Ferrand tram line project.
On completion of this project, a Dependability Department was formed and I was hired to direct it. Thanks to this global view, I was able to work on numerous tenders as a systems engineer.
In 2014, a Technology and Innovation Department was created within Mobility and I was entrusted with its management.
What does your role involve ?
I am responsible for coordinating urban rail, railway and road & tunnel engineering. I provide an outside view on technical choices for bids and projects.
Additionally, I assist the operational departments with innovative proposals, offering my support for their innovation development ideas. To do that, I take part in numerous working groups at the VINCI level. My role is to pass the current innovation topics and challenges down to Mobility's operational departments.
I am also responsible for supporting commercial development in the pre-sales phase on large international projects.
Lastly, I coordinate the Innovation and Outlook Committee – an in-house body tasked with working with the employees to imagine the Mobility of tomorrow.
What do you like most about your job ?
I particularly like the discussion and sharing of knowledge: passing on knowledge and learning something in return. Discovering other cultures is also highly rewarding. In Montreal, I worked within a multicultural team. This requires the ability to adapt and integrate, and that's a really interesting side of my job.
When I was a boy, I absolutely loved toy trains and, now, I have such a great playing field: a tunnel in Peru, a tram line in Luxembourg and a motorway in Russia! In the end, I went to do a degree in robotics so I could come back to play with trains and small cars.
What are the challenges for innovation in transport today ?
We're heading towards the end of the private car, replaced by fleets of shared vehicles and MaaS (Mobility as a Service).
This will revolutionise cities and our modes of transport: electric buses and shared self-driving cars will relieve traffic congestion and regulate air pollution.
On the other hand, other tactics will need to be found for energy transition. The life cycle of batteries will need to be taken into account, which, for now, have huge carbon costs. Currently, when a battery can no longer be charged above 70% or 80% power, it is considered no longer functional for transport systems. We therefore need to find it a second life: it can be used for storing wind or photovoltaic energy for example. These are topics that Mobility is already thinking about with its partners within the VINCI Energies Group.